Printer-friendly version
NLP Techniques and Patterns: Stepping Stones to a New Reality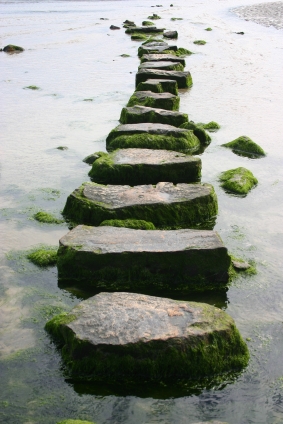 When we use NLP Techniques, otherwise known as NLP Patterns, or NLP Strategies it is because something is not working in our lives, or not working as well as we would like. We might find ourselves at some kind of impasse, or stuck situation. We want something else, or something better. Then we know to set out to build a bridge from old thoughts, states, feelings, beliefs, or behaviors to new ones. In NLP, we literally build a bridge in our neurology from where we are, to the place we want to be, or from the person we are to the person we want to be come. In NLP jargon, we say that we move from a Present State to a Desired State, or PS -> DS.
It is the PS -> DS direction that is at the heart of every NLP technique (of which there are at least hundreds). Never forget this formula!
As human beings, we are learning and adapting to changes all the time... We do so very well, in fact. Yet there are all times when we all feel stuck. We need new resources, a new view, a new outlook, a new idea, a token, more information, or advice, motivation or skills, etc. to move us along.
NLP techniques and patterns are simply documented and tested strategies that move us and our human neurology along in a stepwise manner, and in a positive direction.
To use an Engineering metaphor, no two bridges are exactly alike, but they all serve the same purpose. Good engineering requires a rigorous study of the terrain, and the load that the bridge must ultimately carry. Real human change engineering is also required when building neurological bridges that will carry the load they must in the future that we want to create.
The NLP bridges we build are all in the mind... which literally updates our neurology or neural networks, as old habits and ways of thinking and feeling are diminished, in favor of new neurological patterns. These new patterns are then reinforced or strengthened until they become habituated, or learned.
How can I learn more about NLP Techniques?
Fortunately, the NLP founders and active NLPers ever since have left a wake of NLP techniques as templates that have stood the test of time, are available online and in books, and new patterns are being modeled all the time by creative NLPers. I highly recommend Shlomo Vaknin's revised edition of The BIG Book of NLP. This book has most of the patterns ever invented and documented, and Shlomo does a great job explaining not only that they work, but how and why they work.
Everyone who lives a number of years, can learn new things, and speak a language has probably used some NLP strategy every day of their lives. And how do you know? You know that you are using NLP when what you are doing is working! That's the one criteria that permeates every NLP strategy. In NLP, we say that if something is not working, try something else!
You can buy the book above, or you can get some of those techniques here at Grass Roots NLP. We are always adding NLP techniques, patterns and strategies that you can freely use. Credit will be given whenever possible to those who have modeled these patterns originally, but we take liberty, (and so can you) of changing those patterns as needed to get the best results.
Where Can I Safely Practice NLP Patterns?
What Grass Roots NLP is all about is building a network of NLP Practitioners, who wish to improve their NLP skills in their own lives. One often forgotten aspect of NLP Practitioner is the practice that is involved. By consciously practicing strategies that work, these new programs can become unconscious and very efficient over time. We also try to make NLP practice as fun and useful as possible, because when it is enjoyable, practice does not feel like work. This is why children learn faster than adults. They do not know that learning is work, and so they do it naturally and unconsciously.
As you explore the NLP techniques in Shlomo's book, or on this site. Please feel as free as possible to comment on the patterns as you read and use them. We want to know how they work in your own practice!